DAY 1:
For your first day in Malaga, explore the old town centre, with stops at the most important museums and sights.
A walk round the historic centre
After you unpack, you can jump straight into a weekend of full-on experiences. Kick off the morning on the city's most iconic street, Calle Larios, a lively and bustling pedestrianised shopping area to give you a taste of Malaga's great atmosphere. If you're here at Christmas, be sure to see the amazing light and music show on this street. The street leads into Plaza de la Constitución, a pretty square which is the ideal spot to stop for a snack or a drink. Did you know there are nine different ways to drink coffee in Malaga? For example, a "sombra" is three quarters milk and one quarter coffee.
A 5-minute walk brings you to the Cathedral or Basílica de la Encarnación, called "La Manquita" (the one-armed lady) because construction stopped before the southern tower could be finished, leaving it asymmetrical. There are more curious things to see if you choose to go inside. One you're sure to like is a visit to the cathedral roof, nearly 50 metres up. The views from here are unbeatable.If you walk a little further, you can enjoy the charming Calle de San Agustín, a street bringing you to the Picasso Museum Malaga, with over 230 works by the city's most famous son. Highly recommended.
Local dishes and centuries of history
Our next stop might be La Alcazaba, the fortress-palace which the Muslim governors built on Mount Gibralfaro in the 11th century. At its feet there is a Roman theatre which was in use until the 3rd century CE.By this time you're probably hungry. This is a great place for lunch, with unspoiled traditional eating houses nearby, such as El Pimpi. Everyone has enjoyed the local dishes here, from the Picasso family to Carmen Thyssen and Antonio Banderas. Other iconic bars in the city centre? Antigua Casa de Guardia, or Restaurante El Chinitas. Would you like to try a porra antequerana (like a thick gazpacho) or a dessert wine?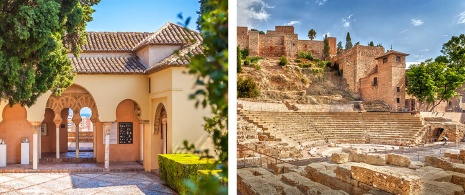 You can have the traditional post-lunch coffee in the sunshine, at one of the pavement cafés in Plaza de la Merced. Just off this square is a very special location, the Picasso Foundation and Birthplace Museum. This is the house where Picasso was born and spent his childhood. You can take a selfie with his statue here on the square. Very close by, the church of Santiago Is where Picasso was baptised.
Sunset from a castle
Do you remember La Alcazaba, which we suggested seeing before lunch? You probably noticed that the palace is connected to a castle, the Castillo de Gibralfaro. In fact, there is one entrance for both buildings.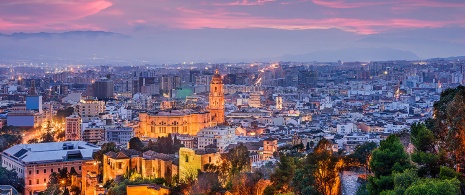 If you don't have a car, the best way to get up the hill to the castle is to catch a number 35 bus on Paseo del Parque. Once you arrive, there is a visitors' centre where you can find out about the castle's history. But the best thing it has to offer are the fabulous views over the city, the Bay of Malaga and La Malagueta bullring. The famous viewing point of Gibralfaro is next to the castle and the Parador hotel. If your visit happens to be at sunset, even better.