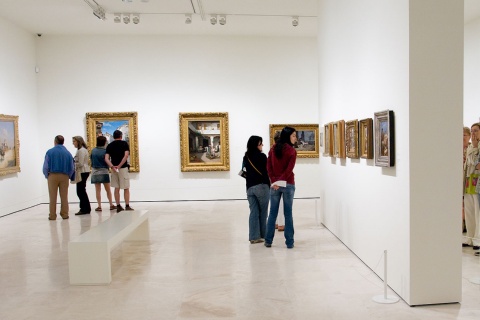 Carmen Thyssen Museum in Malaga
The collection includes the main genres in 19th century Spanish painting, paying special attention to Andalusian artists.
There are more than 200 works on display at the Villalón Palace, a mid-16th century building, in Malaga. The exhibition starts off with a series of paintings by old masters, including 'Santa Marina' by Zurbarán. Then it continues with a section dedicated to Romantic landscapes and 'costumbrismo', depicting customs and manners, with works by Genaro Pérez Villaamil, Manuel Barrón and the Domínguez Bécquer family. Marià Fortuny opens another section of preciosista painting and naturalist landscapes, and then there are Spanish works from the late 19th century, by Joaquín Sorolla, Anglada i Camarasa, Ignacio Zuloaga and Julio Romero de Torres. The museum also organises periodical temporary exhibitions.
Carmen Thyssen Museum in Malaga
---
Plaza Carmen Thyssen - Calle Compañía 10
29008 Málaga, Malaga (Andalusia)
What to do
Travel plans for inspiring you
---